In our modern, fast-paced society, it is of utmost importance for an average man to find time for himself. In some cases it is golf, in other cooking. For me, those are video games. My free time when I can relax and wander off into magical world. But in order to complete that feeling, I had to make my personal gaming room. This is how.
Place
First of all, you will need space to set up your battle station. I chose part of my living room, where my TV is set, so that everything is at hand. Luckily, the window is on my right side, and slightly back, so the Sun is not a problem. Nothing worse than a monitor under direct sunlight. Also, desk with my desktop PC is on the furthest end of the apartment, opposed to the bedrooms, so my roommate will not hear me, if I stay longer at night to play.
Furniture
I have already mentioned desk, which is a must have if you have a desktop PC, but if you are cross-platform oriented like I am, you will need a good shelf, to stock up your consoles and video-games. One of those with enough place for a TV to fit in, and separated sections below, for consoles. In that way, everything is there, at plain sight. And it looks awesome! Cozy couch is also essential, big enough for at least four people to sit, with couple of coffee tables at hand. I often invite several friends, so we grab a few beers while playing HALO or Pro Evolution Soccer. Hence the coffee tables.
Installations
Under condition that your in-wall installations are in order, you will need several more things to ensure prolonged fun. UPS (Uninterruptable Power Source) is your way to secure your computer from fluctuations of the voltage, which will cause severe problems to your hardware (I have lost two graphic cards due to this). And for TV and consoles, an extension cord, with built-in safety switch is a good asset to consider. In case of a lightning strike, you will have an additional level of safety.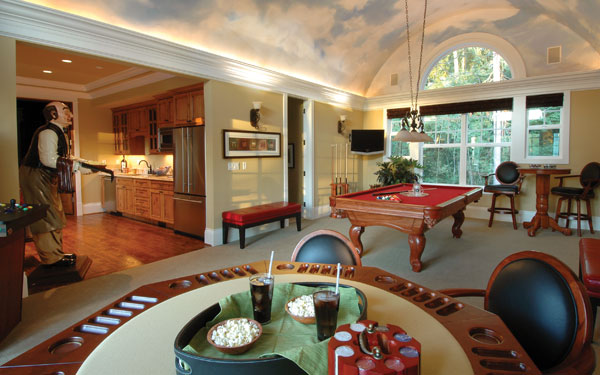 Hardware
This is completely up to you. If you are more of a console person, stick to the consoles. At the moment, I have an Xbox, PlayStation, desktop PC and a brand new gaming laptop. Nintendo Wii seems like a good fun, but I cannot afford it at the moment. I have all the platforms covered simply because some games are meant to be played on a big screen, but for others, I need a mouse and a keyboard. I can fit in the story of the game better, if I am closer to the monitor. For example, Witcher 3: The Wild Hunt, looks amazing on the big screen, but I feel distant, and get bored fast.
On the other hand, Injustice: Gods Among Us, does not have much of a story, but its combo system is so sluggish on a keyboard, that it is impossible to play. Laptop is often used for those games requiring multiplayer, so when we are meeting at my friend's place to throw a few rounds of League of Legends, I take it with me.
Accessories
You will need that final touch to accent that this is your gaming room. If you are figurine collector, this is a good place to set up your collection. Especially if you are theme-oriented. A few posters might brighten up the space a bit, so consider this option, as well as a few of those USB-powered gadgets. It will look nice, and will blend in perfectly.
When all things are taken into consideration, there is only one gaming room which is perfect. Yours. That is the place where you will be able to put all the worries aside, and just to sit down, and enjoy. Happy gaming!