There's no better time to have a party than summer time. You don't need a big house with pool to have a great party, just do the necessary preparations and carefully choose who to invite.
If you're planning to hold a party for a big number of people, you can't even think about organizing everything in just one room of the house. In that case you would actually need the whole house/apartment and maybe garden if you want your party to be a success. You can even consider a weekend house if it's big enough and not too far away from the city. If you don't have a perfect party place, the best solution would be renting a café or a disco, you just have to be aware that it will cost you more. It is important not to leave everything for the last minute. Plan and organize in advance. Set the date for the party for a day when you know that the weather will be nice. Invite your guests at least two weeks before the party. You'd want to make sure what you'll need and the amount of everything you'll need in time.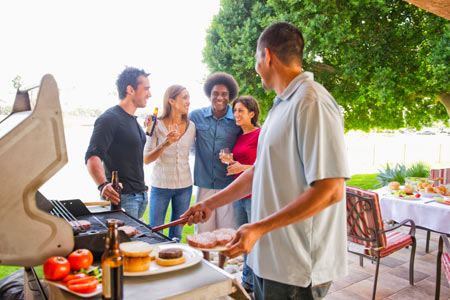 Music is there to break the ice and creates the atmosphere. Depending on the music choice, your guests can have fun jumping and dancing to some fiery rhythms or be bored due to melancholy notes of some unknown performer. Hip-hop and reggae are good to get the party started, house and drum 'n' bass are inevitable to shake everyone up, while seductive Latin music is a great choice for the peak of the party. As the dawn is breaking play some good old pop and rock ballads to set the mood. It wouldn't look good if the host missed the whole party while playing different CDs all the time, so it would be wise to hire a DJ or anyone else who would be willing to play the music during the party.
It is very fashionable to organize theme parties, from clothing to decorations. There are many choices such as red party or black and white party and for this all the guests should wear something in the theme colors. You can throw a Hawaiian party if you're near the beach or just want to create that beach feeling.  If you and your friends are into movies and TV shows you can organize a fancy dress party where you would dress up as your favorite characters. Theme parties depicting a certain time era are hugely popular as well. The easiest and the most interesting theme can be a hat party, and everyone would have to wear some kind of a hat or a hair piece.
The fewer people you want to invite the more emphasis on food you're going to serve. It doesn't have to be anything special and extravagant, but your guests should be satisfied. Small pastries with different salad fillings are a good snack. Instead of jumbo sandwiches, make sandwiches on crackers or chop bread in fine cubes which can be eaten in one bite. If there's going to be alcohol at your party, avoid serving sweets and fruit. Remember, it's up to you whether your guests will get completely drunk or enjoy a nice evening of good food, drink and fun.
Unlike before, the more people you want to invite the more diverse drinks there should be. And, in sufficient quantities! Learn how to make some cocktails. You shouldn't let yourself get wasted, though. That would be a big fault in the eyes of your guests. By no means should you use crystal glasses for drinks.
You should use some plastic cups or serve small bottles of particular drink. Not everything can be stored in your fridge, so stubby coolers are an essential to keep the drinks cold. Make the party more enjoyable for everyone by using personalized stubby coolers, just imagine what would leave the biggest impact on your guests. With a wide range of alcoholic and non-alcoholic drinks, you can spice up the party not only with cocktails. Drink sticks can be a trump card for your summer party. Use some ice sticks bags and fill them with juice or mix of alcohol and juice. Freeze them and then serve the ice sticks to your friends.
You will not need many reasons to throw a party this summer. The weather is nice, the courtyards are ready and everyone is more relaxed this time of the year. Be original, think about the needs of your guests and have fun!