The best way to define eclectic style is to say that it is a mixture of different and sometimes even complementary styles. Such mixture can make a whole space much more interesting and visually appealing. People often choose to design their bathrooms in this style since it works very well with smaller spaces. Many homeowners also take the opportunity to experiment with designs in the bathroom since it is separated from the style you used in the other parts of your home. In that case eclectic style is a perfect option since it comes without any particular rules. Here are some ideas you might find helpful if you decide to go with this style.
Choose different tiles
Tiles play an important role in the design of eclectic bathrooms. Do not choose simple black or white tiles but go with something more interesting and unique. You can find many tiles with interesting designs on them. If you have a completely unique design in mind, you can look up for the places where you can get customized tiles. These will cost more but will give you exactly what you need. Also, it is completely ok if you decide not to go with tiles at all. Parquet flooring is also something you can find in many eclectic bathrooms.
Create bathroom sitting area
Who says you cannot have a table and a couple of chairs in your bathroom? It can actually be a great place to keep all of your shower products or apply your make up. It gives your bathroom classy and traditional touch which you can combine with more modern approach. You can choose more modern bathroom furniture that will create the mixture of traditional and modern design. Go for white, blue or watery green furniture which can perfectly fit into the bathroom.
Add walnut cabinets
Considering the vanity area, dark woodwork is always a good choice. It gives your bathroom the classy touch you are looking for. You do not have to stop with cabinets. Get a mirror with the frame of the same or similar design. If you choose to do this, you should consider tumbled marble tiles which go great with wooden designs. You should use same tiles for the backsplash and shower walls as well.
Bring plants to the bathroom
Another way you can make your bathroom different is by adding some plants to it. A big plant in the corner of the bathroom or a couple of smaller ones on the vanity can add some style to your bathroom. Orchid, bamboo and philodendron are some plants that are quite suitable for bathrooms. But if you find looking after the plants too exhausting you can also go for plastic plants that can look just the same as the real ones.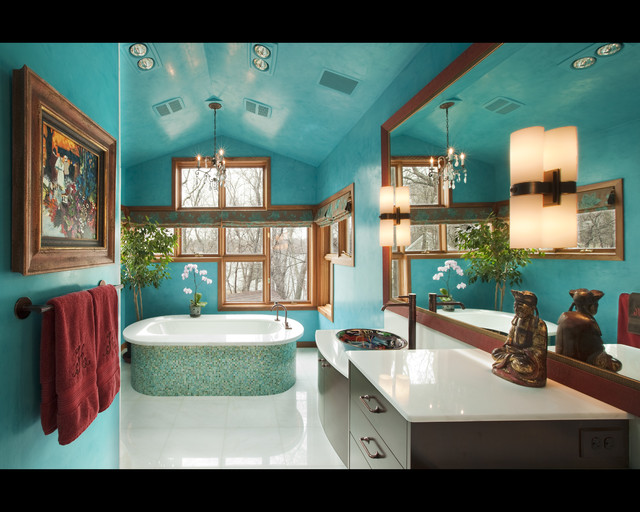 Add a different shower
There are many different things you can do with your shower in an eclectic bathroom. You can mount the showerhead on the ceiling if the upper-floor does not stand too high. If you decided to do this you should first dial up the plumbers who will check if the space above your shower can actually accommodate all the necessary pipes and install them if everything is all right. If you want to go for a tub instead of the shower, you can use round shaped tubs which will give your bathroom a different look.
With all of these things you can easily combine traditional and modern design in your bathroom. Do not be afraid to mix and give your ideas a shot. With eclectic bathrooms it is all about being creative.